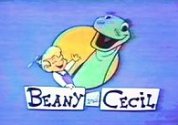 Welcome to Beany and Cecil Wiki
Edit
Beany and Cecil Wiki is a collaborative website about Beany and Cecil Cartoon created by Bob Clampett that anyone can edit!
The Beany and Cecil Show
Edit
Beany and Cecil was an animated cartoon series created by Bob Clampett, who had previously worked for Warner Bros.. As a puppet show entitled Time for Beany, it originally aired in 1949, with the animated series first appearing in Matty's Funday Funnies in 1959, later renamed Matty's Funnies with Beany and Cecil and finally Beany and Cecil in the USA. Another season was produced in 1988.
Along with The Jetsons and The Flintstones it was one of the first three color television series on the ABC television network (the initial season, though, was originally shown in black and white, as ABC was unable to telecast color programs until September 1962).
Latest activity
Edit